Here are 10 Best Restaurants in Albania You Must Eat at. Albania might not be the most perfect country in the world but one thing is for sure; definitely you will experience some of the best Mediterranean food of your life. To make things better, you will also spend on average around ~20$ per person.
When I went back to Albania this year, I made a list (thanks to my foodie friends who live there) of a bunch of restaurants I had to go during my stay. So here are the 10 MUST GO Restaurants when you visit Albania
1. Mrizi i Zanave – Fishte, Lezhe – Top of 10 Best Restaurants in Albania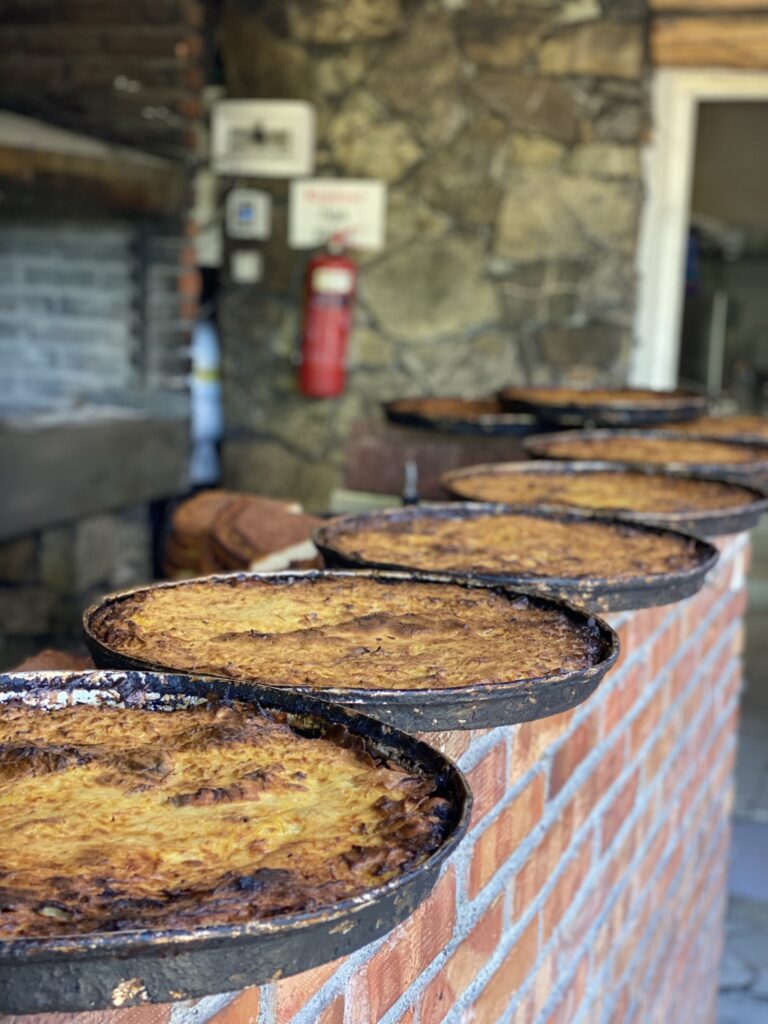 "Mrizi i Zanave" is definitely my favorite from the list. Everything at this restaurant is just perfect. The chef, Altin Prenga, made sure to incorporate the modern cuisine into the Albanian traditional one. The food is absolutely executed to perfection. Their slogan also says; "Eat Locally, Think Globally" which gives the meaning right away.
The menu of the restaurant consists of seasonal vegetables and fruits. As a result, there is no fixed menu where you can order from. The waiter/ess will usually bring you all the appetizers consisting of cheeses, veggies, prosciutto etc. The only food you can choose is the meat, which comes as the last course before deserts. The desserts are also to die for. My favorite is the coffee ice cream, where the server literally bakes the coffee beans in front of you.
Mrizi is more like a full day activity. Besides the restaurant, you might wanna take a ride on the "Train" which drives you around the farm. Also there are multiple animals around.
Please make sure to make a reservation at least a few days in advance. Mrizi does not accept walk-ins. They get all their products from their farm daily so they need to know the exact amount of people visiting that day.
Price per person usually goes to 18$ including alcohol.
If you would like a more deep dive on Mrizi i Zanave, head out to this article.
2. Diella Trendafili Mistik – Ishull Lezhe
Next on the list we have Diella "Trendafili Mistik". Trendafili Mistik is actually located very close to Mrizi i Zanave, in another part of the town called Ishull Lezhe. What makes this restaurant so special, is its location and its delicious food. As my friend says, even the tomatoes taste different here.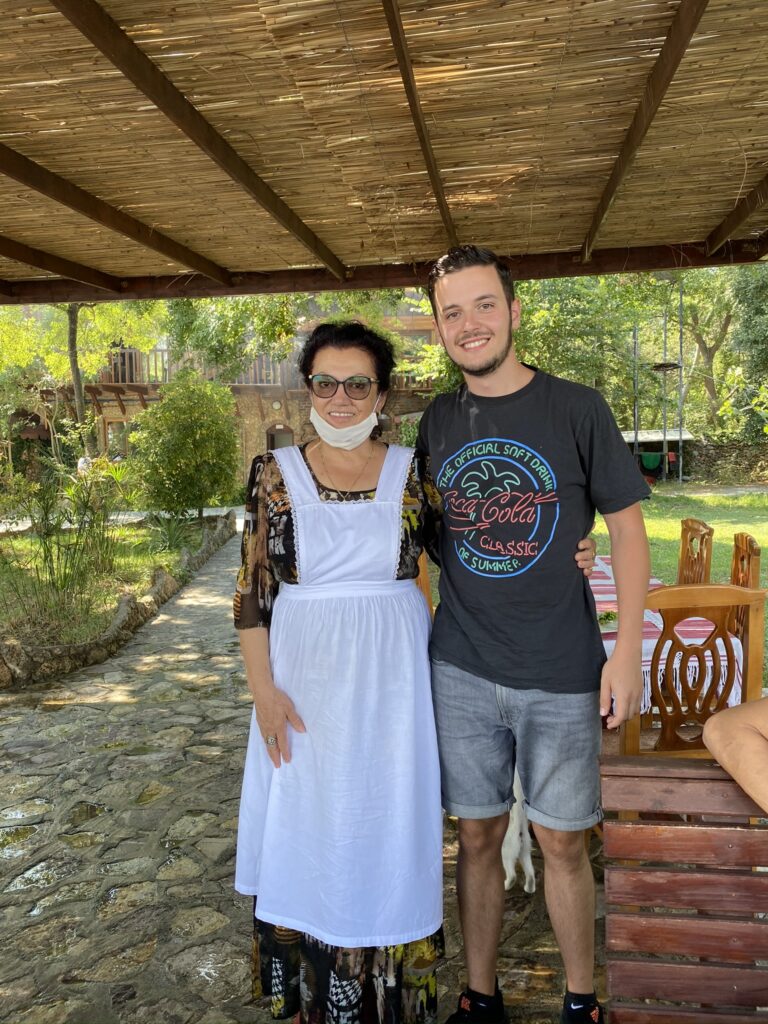 As soon as you leave the highway, you will be driving on a picturesque road in the middle of the lagoon. From the highway, it will probably take you around 15 minutes to get to the restaurant. Trendafili Mistik is located in a protected national park, so you will have to pay a $2 fee per car on entrance.
Now let's talk about food. The food there is incredibly delicious. The restaurant uses only freshly caught wild seafood. The server will let you know what their daily catch is. We ordered everything grilled on wood fire and it was just perfect. Trendafili Mistik is also known for their Byrek. When you hear byrek, you might be thinking Cheese Byrek or Spinach Byrek but nope. This Byrek's Ingredients are apples, raisins and chicken. I was very skeptical at first and wasn't actually expecting it to be any good but gosh I was so wrong. I wish I could go back there just to eat two of these delicious byreks.
The price per person is around $30.
3. Rapsodia – Shengjin, Lezhe – 3rd on 10 Best Restaurants in Albania
Rapsodia, located in Shengjin Lezhe, is an incredible restaurant focused on contemporary albanian food. As the name might give it away, Rapsodia in Albanian means Rhapsody. Furthermore, Alfred Marku's vision, who is the chef of Rapsodia, is to bring the food to people, in a way that it creates joy and expresses a feeling of enthusiasm, just like a Rhapsody does. Even the tasting courses are named after the musical notes.
I ordered the Do tasting menu and it was composed to perfection. What I liked the most about this restaurant is the way the chef presents the plates to you, absolutely stunning. In my opinion, this is probably the fanciest restaurant in Albania that has a main focus on Albanian traditional food.
If you are going during the Summer, make sure to make a reservation since the area is a well known tourist destination. The price per person is around $25.
4. Tiku dhe Mato – Vlore
Next, "Tiku dhe Mato" differently from "Mrizi i Zanave", is a seafood restaurant. The restaurant is located in Vlore and it has one of the most amazing views I have ever seen in a restaurant.
The restaurant does have a fixed menu but it would be better if you ask the server to only give you the freshest fish and seafood. My favorite plate from this restaurant is the Fish Carpaccio. Besides that, the Grilled Octopus is one of my favorites which is very soft and juicy.
Make sure to make a reservation if you are going on a busy weekend day. Price per person usually goes to 30$ without alcohol.
5. Ceren Ismet Shehu – Linze, Tirane
In Addition, "Ceren" is another favorite Agricultural restaurants in Albania. Just like Mrizi, Ceren bases their menu on seasonal fruits and vegetables. As a result, the only meal you can choose is the meat.
My favorite dish at ceren is Karamele Zana Pasta which is Ravioli filled with Farmers Cheese. Also the Pies are very delicious. The plate represents multiple Albanian traditional Pies. My favorite type is Fli which is literally layers of dough, eggs and milk.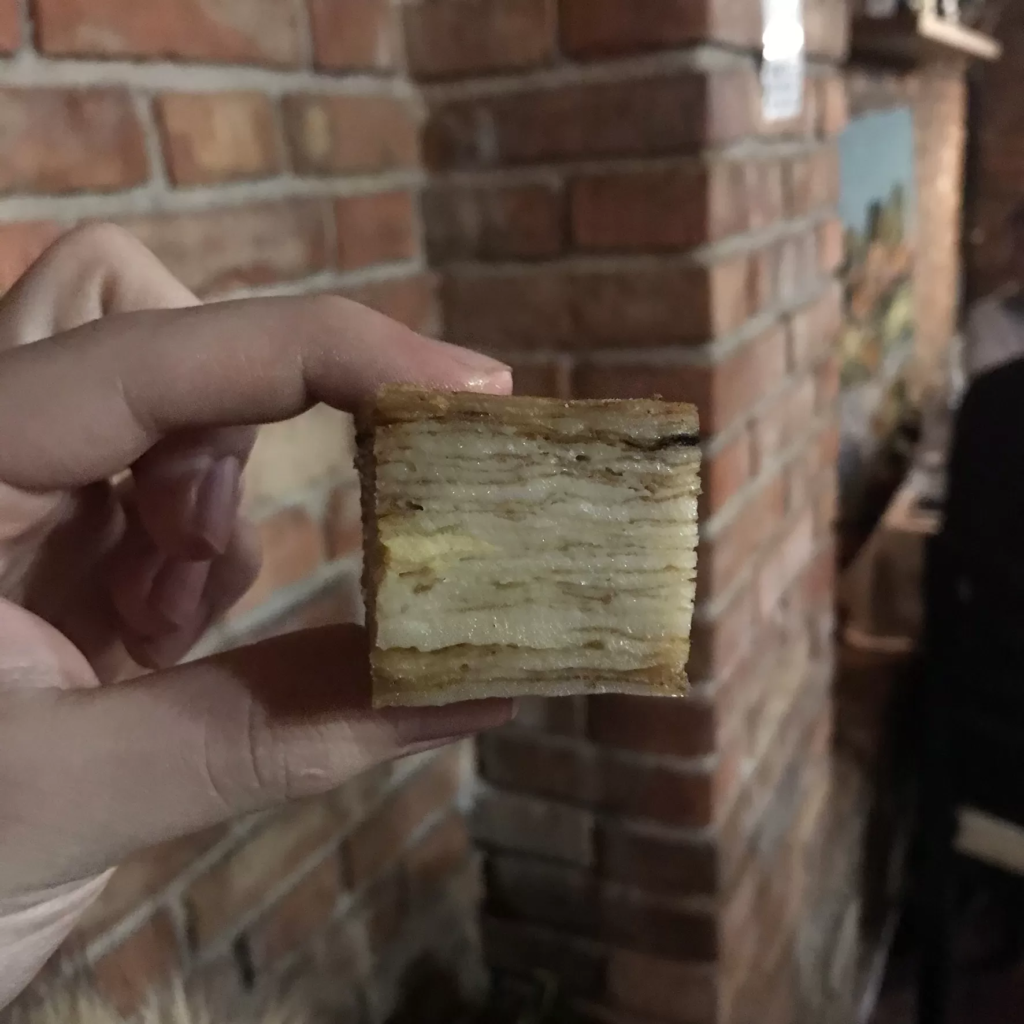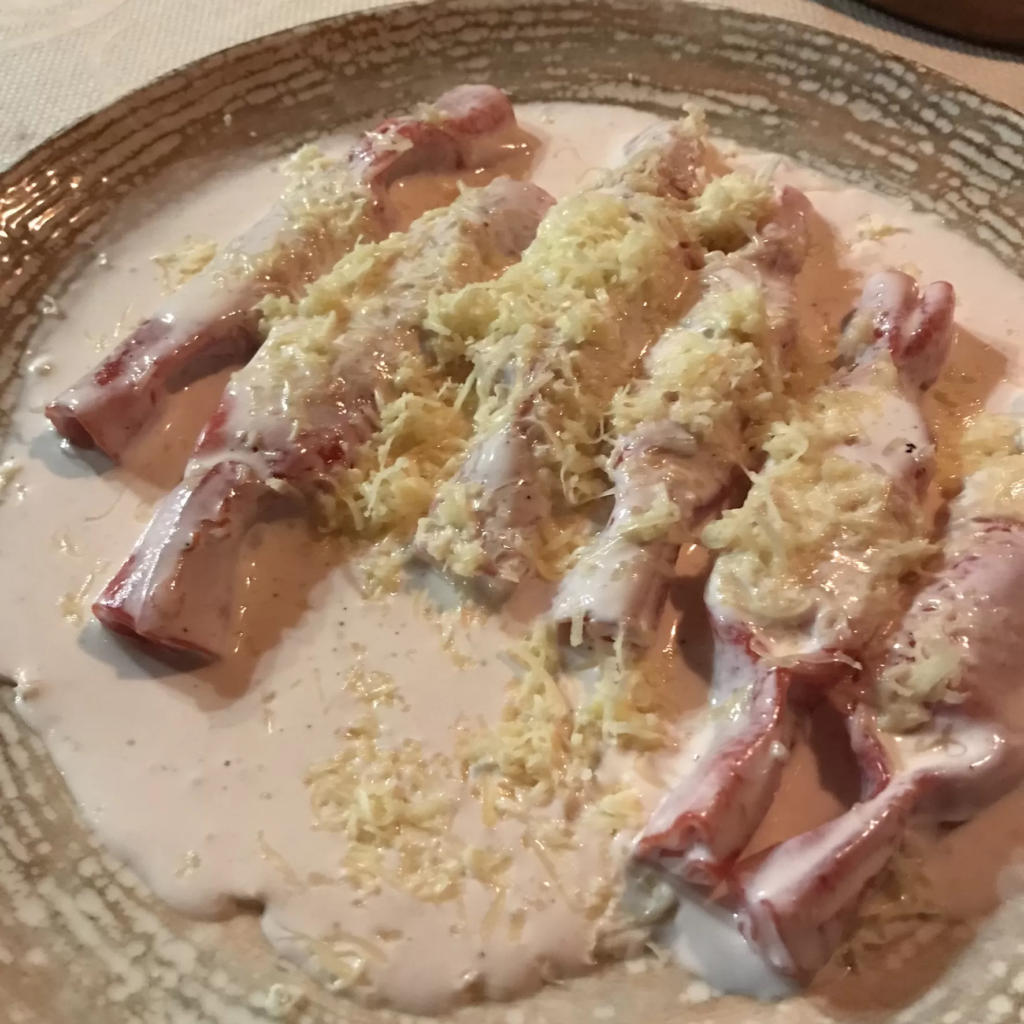 Reservation is necessary. Price per person is around 17$ including alcohol.
6. Rosa e Tymosur – Pogradec – 6th on 10 Best Restaurants in Albania
Another incredible restaurant you must visit while you are in Albania is Rosa e Tymosur, located in Pogradec, right next to the lake. If you Translate Rosa e Tymosur to English, it means The Smoked Duck, which is exactly what the restaurant is known for. Once you arrive to the restaurant, you might get confused because there is no parking available. Well, even though there is not a single road sign, you are always allowed to park on the left side of the road, since the traffic flows only in one way.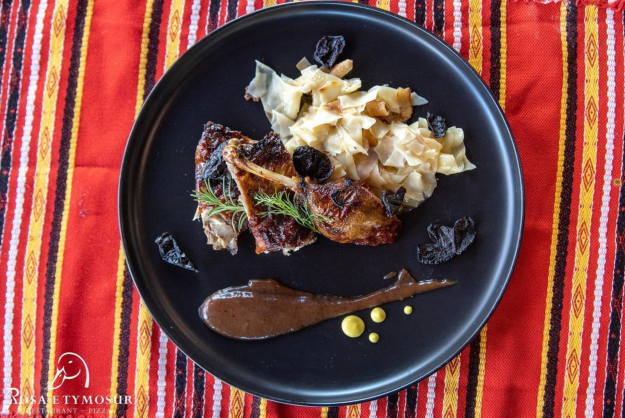 Besides the smoked duck, some other delicious dishes you should try are the Lakror and the local fish, Koran. Furthermore, Koran is native to the lake, and you won't be able to find this fish anywhere in the world. If I had to describe the taste of this fish, I would say it tastes very similarly to Salmon. Even the color of Koran is pink, just like Salmon.
The price per person is around $20. Make sure to make a reservation because the restaurant is small in size.
7. Te Lala – Linze, Tirane
Next on the list, Te lala is located in Tirana, just 25 minutes from the center of it. Different from the previous restaurants, this one was not on the list I made of other people's recommendations. One day, I was going out with my family for lunch and we decided to stop there randomly. I was so shocked and surprised by how good the food is. My favorite things from the menu are the Suxhuk with Cheese and the Chicken Pasta.
At the end of the meal, the server will cut pieces of a honeycomb, produced by local bees in the area, and serve it to you. The restaurant is designed and inspired by the traditions and food of the north of Albania. The price per person is just $15.
8. Padam – Tirane
"Padam" is the perfect place, if you are looking to get the best service you can ever get in Albania. The server I had made sure to switch the plates really quick when they got dirty, divided the food on separate plates on shared appetizers and so many more little details which makes the serving an absolute 10. Furthermore, This would be the ideal place to bring your business partners for a work dinner.
The chef, Fundim Gjepali, created a crazy remarkable menu but in my opinion it lacks 1 important thing; taste. Don't get me wrong, everything I tried was delicious, I just don't think the price I paid was worth for the food I ate.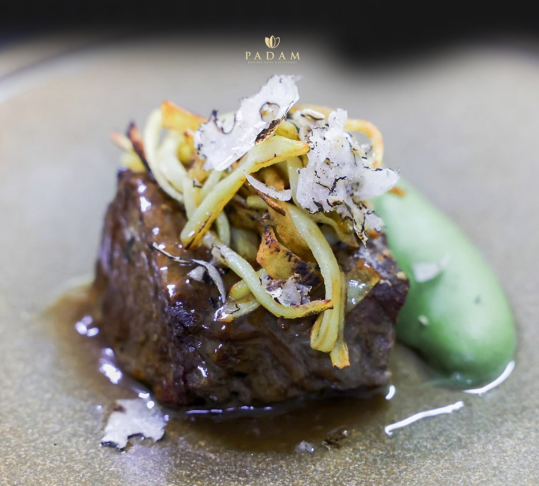 Make sure to make a reservation on weekend nights. Price per person is around 50$ which makes it the most expensive restaurant on the list.
Price per person is around 12$.
9. ERA Restaurant – Tirane
"Era Restaurant", located right in Blloku, is another great restaurant in Tirana.
I usually say that a good restaurant should have a limited menu because if they have a menu that looks like a book, most likely they will not execute everything perfectly. Well, this is not the case for ERA. Their menu is so big, yet every dish you order is executed perfectly. I have tried the traditional dishes, Italian dishes, pizzas and so many more, all executed to perfection. Highly recommend Era Restaurant if you are planning to do a dinner party with a lot of people.
10. Pasta da Pucci – Tirane – 10th on 10 Best Restaurants in Albania
"Pasta da Pucci" as you can understand from its name, this is a Pasta Restaurant. If you are in the mood for some fresh pasta, this would be the best option. Not only they have the common pasta recipes, but they also offer a huge variety of combinations which I had never seen before. Since I wanted to try as many things as possible, I got the Trio which is basically, 3 types of pasta in a big plate. In addition, this dish is made for sharing, but I ate the whole thing myself and I don't regret it.
Price per person is around 25$.
If you have any questions, please leave a comment below and I will try to answer as soon as possible.