On the very first episode of cooking with Xhulio, Kiara and I cooked the very famous Lebanese Tabbouleh Salad. A lot of people might be wondering how to make Lebanese Tabbouleh Salad. If you prefer written instructions over the video, don't worry; I've got you covered in this recipe.
To begin making Lebanese Tabbouleh Salad, we need these ingredients:
2 bunches of parsley
1/4 cup fine bulgur wheat
1 lemon
1/3 cup extra virgin olive oil
2-3 scallions
1 cup small tomatoes
1 garlic clove
1/2 tsp. salt
Preparing the dressing for Lebanese Tabbouleh Salad
Start by preparing the dressing for the Salad. To make the dressing what we're going to do is we're going to squeeze one lemon and mix together with 1/3 cup of extra-virgin olive oil. Make sure you are not dropping any of the lemon seeds in the dressing. If you want to learn a quick trick on how to filter the lemon juice out of the seeds make sure to watch my YouTube video where I explain this with visuals. After combining the lemon juice with the olive oil together, make sure to add the 1/4 cup of fine bulgur wheat. Please make sure the bulgur wheat is actually fine rather than the full grain because the full grain will make it taste uncooked.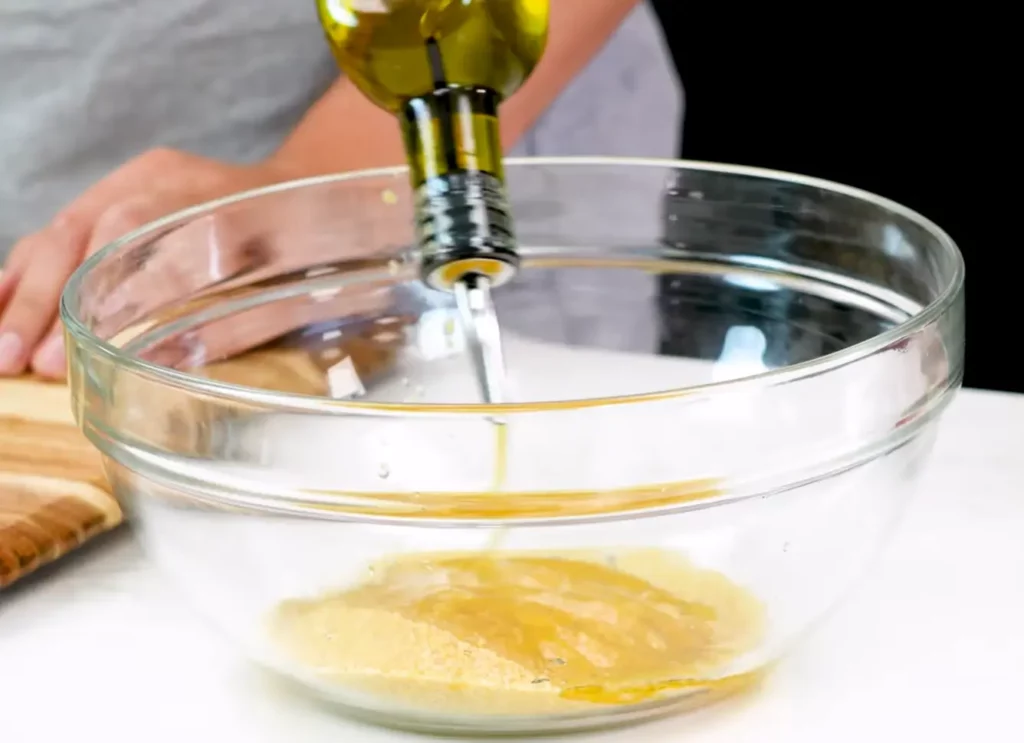 Get to Chopping
After combining the salad dressing with the bulgur wheat, it's now time to start the second part, the chopping. Chopping is very important to make Lebanese Tabouli Salad. This is where you can tell apart a great Salad from a beginner one. We are going to start by chopping the scallions. To chop the scallions, slice them really thin. Once you are done slicing the scallions, start to slice the small tomatoes also known as the cherry tomatoes.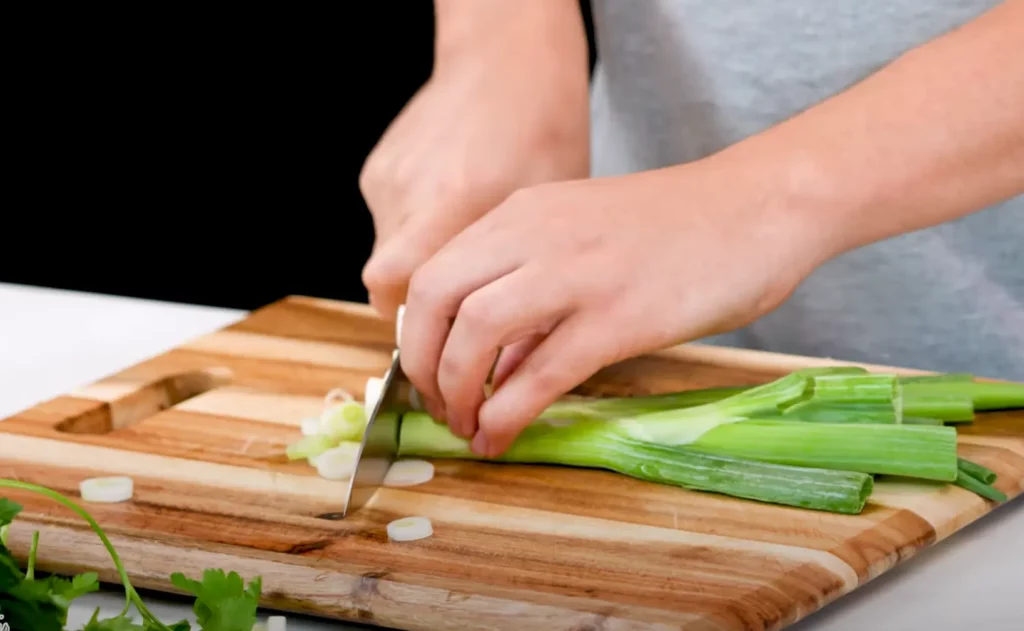 We are going to cut the cherry tomatoes in very small pieces. Start by making a half first and then cut that half into quarters. After cutting the quarters you can also make a few smaller pieces. Add the tomatoes and the scallions on top of the bulgur wheat, but do not mix them. We are also going to mince one garlic clove, and add it on top of the tomatoes.
Chop the Parsley
Furthermore, let's continue the chopping to make Lebanese Tabouli Salad. Grab the parsley bunches and begin by cutting the stems off. Once you cut the stems off start chopping the parsley really really thin. Make sure in this case to be really careful with your fingers. You may use your knuckles to protect you from cutting your fingers. Head on over to my YouTube video if you'd like to see the technique on how to protect your fingers.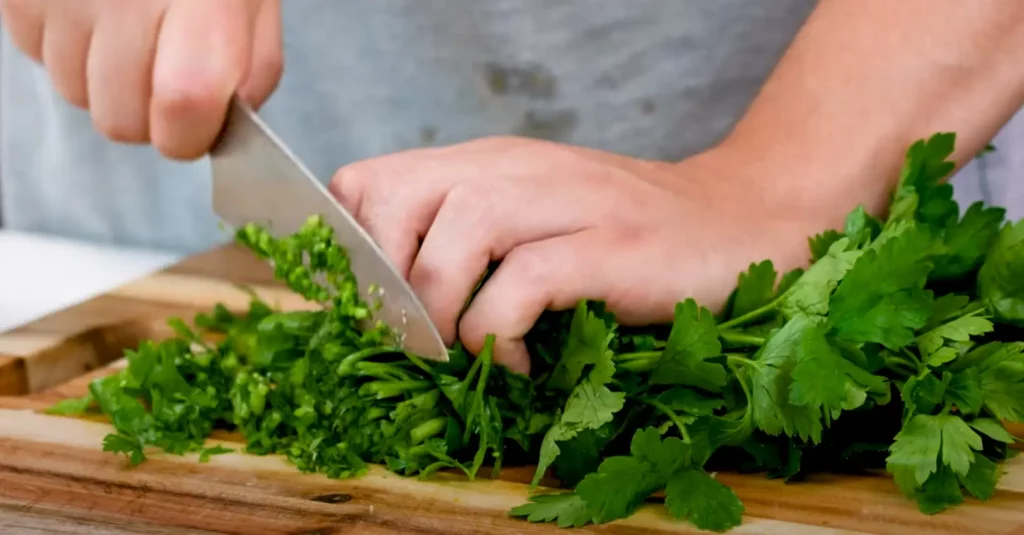 After the parsley has been fully chopped, make sure to add it on top of the bowl. We are going to season the parsley with just a little bit of salt but make sure to not mix everything together yet. What salt is going to do is that it's going to release water from the parsley which is going to combine with the water from tomatoes and dripping all the way towards the bottom of the bowl. This way the bulgur wheat is going to taste delicious.
A lot of recipes on the Internet require mint to be added to the Salad, but I prefer to have this without mint. I suggest you try both versions for yourself.
Store Lebanese Tabbouleh Salad in Fridge
Make sure to cover the bowl up and put the Lebanese Tabouli Salad in your fridge for at least four hours. If you'd like to be extra, you may leave your Tabouli Salad in the fridge overnight. Once you are ready to eat it, make sure to mix everything together and serve with pita bread or sourdough bread.
The reason why this Lebanese Tabouli Salad is so healthy and so good is because parsley is very rich in vitamin C and other important antioxidants, which help reduce many risks of serious health conditions, such as diabetes, stroke, heart disease, and others. Parsley is also an excellent source of vitamin a. Moreover, parsley is also an amazing addition to your digestive system. You will only do yourself a favor, if you add parsley to your diet. The Lebanese people knew what they were doing when they invented the Tabouli Salad.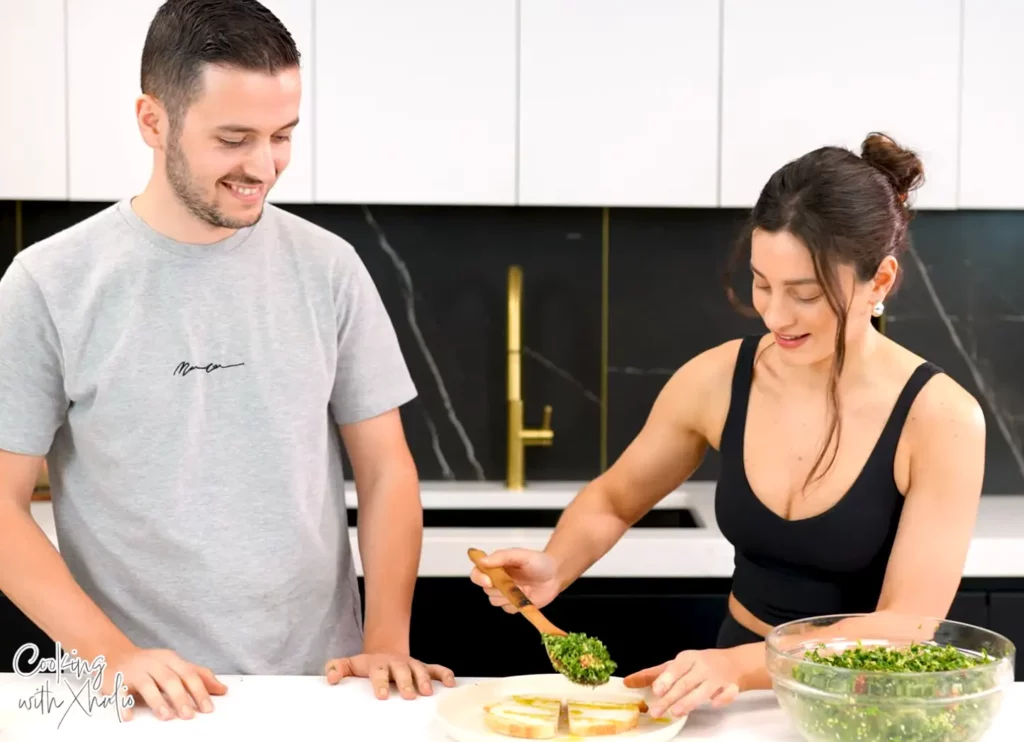 Don't forget to tune in on the next episode of Cooking with Xhulio, and if you wish to look at some of my other recipes, make sure to check them out here. Thank you for reading this and I hope to see you on the next one.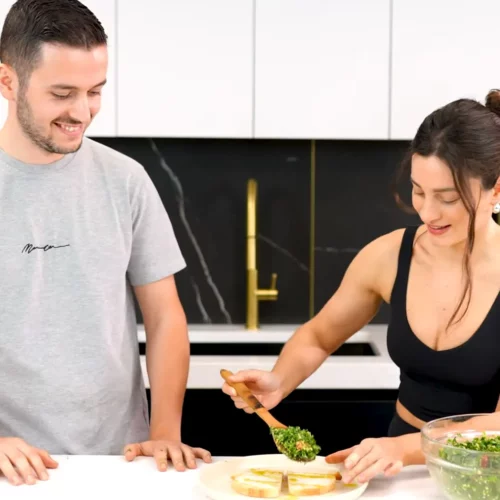 How to make Lebanese Tabbouleh Salad
Lebanese Tabouli Salad is a refreshing and nutritious dish that combines finely chopped parsley, juicy cherry tomatoes, and scallions with a zesty dressing made of lemon juice and extra-virgin olive oil. Let me show you how to make it.
Equipment
1 Mixing Bowl

1 Chopping Board

1 Sharp Knife
Ingredients
2

bunches

Fresh Parsley

1/4

cup

Fine Bulgur Wheat

1

Lemon

1/3

cup

Extra Virgin Olive Oil

2-3

Scallions

1

cup

Cherry Tomatoes

1

Garlic Clove

1/2

tsp

Salt
Instructions
In a mixing bowl, combine the lemon juice and extra-virgin olive oil for the dressing. Ensure no lemon seeds get into the mixture. (Pro tip: Check out my YouTube video for a quick trick on filtering lemon juice from the seeds.) Once mixed, add the fine bulgur wheat, making sure it's not the full grain variety.

1 Lemon,

1/3 cup Extra Virgin Olive Oil,

1/4 cup Fine Bulgur Wheat

To achieve the authentic Lebanese Tabouli Salad, the chopping is crucial. Start by slicing the scallions thinly and then dice the cherry tomatoes into small pieces. Place the tomatoes and scallions on top of the bulgur wheat without mixing. Next, mince the garlic and add it on top of the tomatoes.

2-3 Scallions,

1 cup Cherry Tomatoes,

1 Garlic Clove

Remove the stems from the parsley bunches and chop the leaves very finely. Be careful while handling the knife; you can use your knuckles as a guide to protect your fingers. Once chopped, add the parsley on top of the bowl.

Sprinkle a little salt over the parsley. This will draw out water from the parsley, which will combine with the tomato juices, creating a delicious flavor. Note: Avoid mixing everything just yet.

Some traditional recipes include mint, but for this version, we'll omit it. Feel free to try both versions and decide which you prefer.

Cover the bowl and refrigerate the Lebanese Tabouli Salad for at least four hours. For even more flavor, you can leave it in the fridge overnight.

Before serving, mix all the ingredients together thoroughly. Serve the Tabouli Salad with pita bread or sourdough bread.
Video