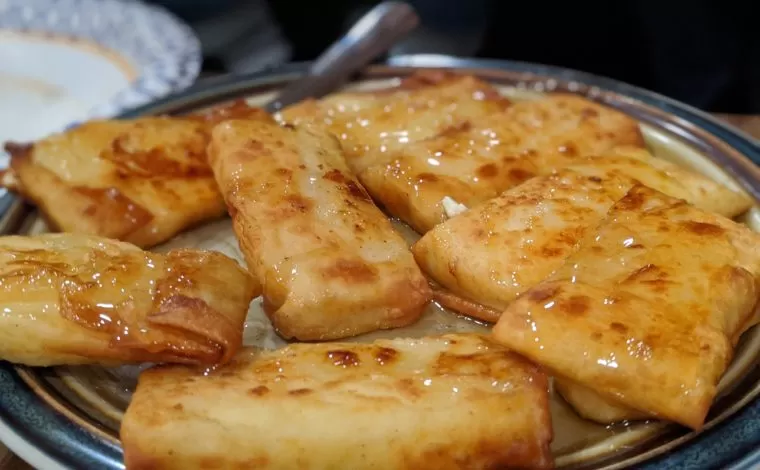 Fried Feta Cheese with Honey
Fried Feta Cheese is a recipe that has existed since Feta Cheese was discovered. Its origin dates back to 8th century B.C. It is believed this was an accidental discovery due to milk curdling when it was transported inside animals' stomachs. 
1

pound

Feta Cheese

5

tbsp

Honey

3-4

sheets

Filo Dough

a

lot

Olive Oil
Cutting the Feta Cheese
Get a big chunk of Feta cheese. It is very important to get sharp hard feta. Any type of feta such as the Bulgarian or the French Feta will not work on this recipe. Cut the big block of feta cheese into small rectangles of about 2-3 inches in size. Make sure to dry the feta and take as much of its brine juice out. If the cheese is too wet, it will ruin the recipe.
Folding the Feta
Next steps to this recipe is to fold the cheese with filo dough. Now here is where it becomes tricky. Do not use regular filo dough that you usually get in your supermarket freezer. When you go to the freezer, try to look for thick filo dough sheets. We need a little bit of thickness so that the cheese doesn't fall out. I found my filo sheets in a middle eastern store. If you would like to make your own sheets, just follow the same process but let the sheet be 3 times as thick as usual. 

Cut the sheets of filo into rectangles about 2.5 to 3 times bigger than the area of the cheese. Put the cheese into the middle of it, and start folding so that the cheese is fully covered. We are pretty much creating an envelope for the cheese. If your filo is dried, you might need to use a little bit of brine water to wet the edges of the sheet, so that it sticks together. Do not wet the dough too much. Put the filo cheese aside and make sure to not let them in open air, since it will dry the filo. Cover them with a soft wet cooking cloth or saran wrap.
Frying the Feta (Fried Feta Cheese)
Now comes the fun part. In a pan, add enough olive oil so that its about 1-2 inches thick. Heat the oil up just as much as you do when you make fries. To test if the oil is hot enough you might use a wooden stick. Press the wooden stick to the pan and see if it makes bubbles. If it does, the oils is good to go.

Add the folded cheese one at a time. Fry until golden in one side and then flip it, to fry it until golden on the other side as well. Make sure to put the fried feta into a bowl with paper towel in it so that it sucks all the unnecessary oil.
Finalizing Fried Feta Cheese
When all your feta is fried, transfer it into a plate and top it of with Honey. Do not let the dish sit for too much because it will start to become saggy and inedible. A great addition to this dish is also sliced roasted almonds or sesame seeds.